On Father's Day ...
Reflecting on what it means to be a parent, even more than a dad.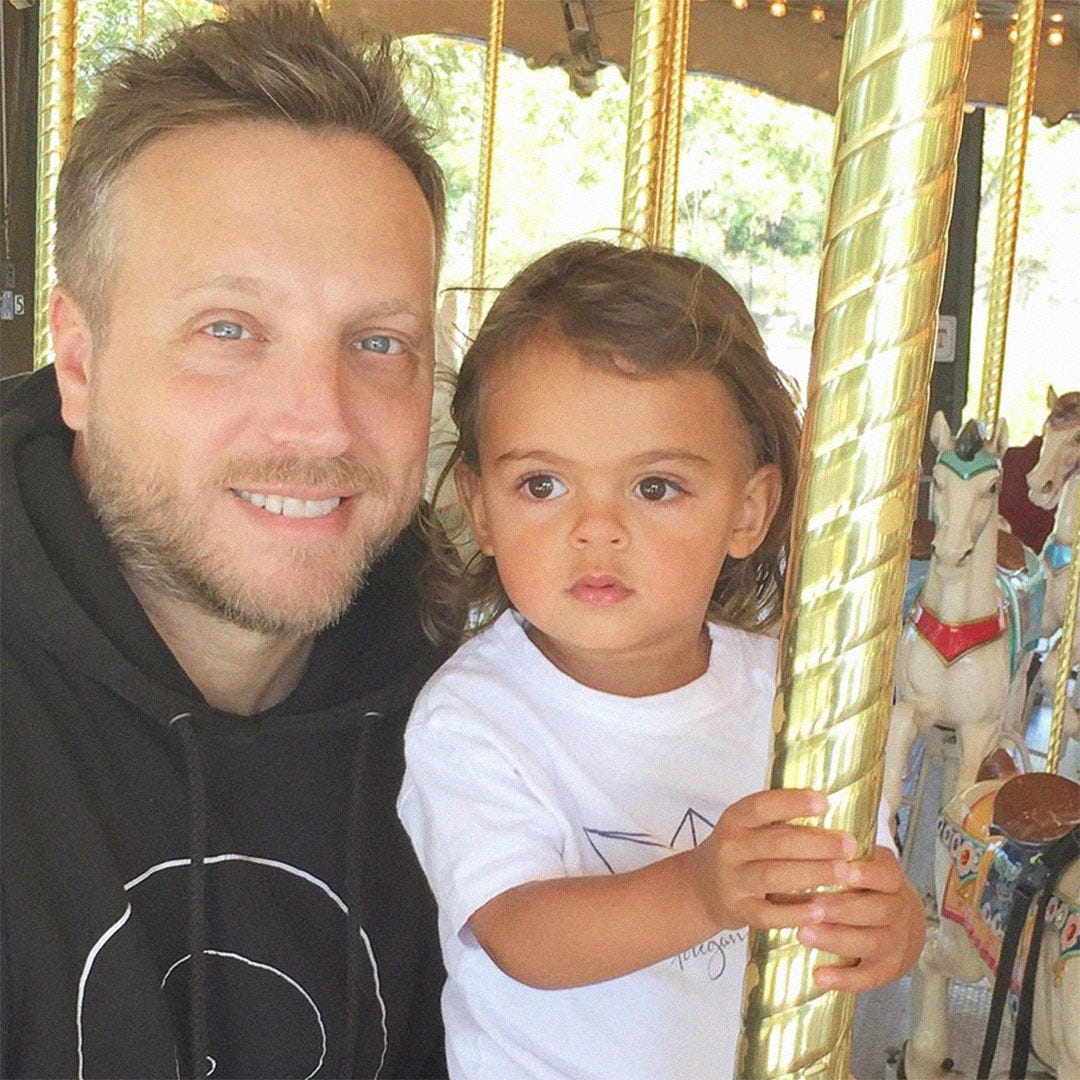 My Father's Day gift came early this year.

A couple of weeks ago, my son and I were in the lobby of our apartment building, when I was explaining why he couldn't run out onto the sidewalk without holding one of my hands. Cielo is two and a half, and answers most every imperative with a 'why' followed by three or four more "whys". Having gone through my litany of legitimate reasons, I then brought out the age-old discussion-ender, and declared "Because I am your Daddy, that's why." The mailman who was in the mailroom just around the corner laughed, and said, loud enough for us to hear, "That's right, Daddy says—and Daddy always knows best." Cielo hopped over to the mailroom entryway and said with bravado: I have TWO Daddies! I have TWO Papas!

I smiled broadly behind my mask. We had hit a major milestone, particular to nontraditional families. Our child was able to both recognize and articulate what made his family different. And not only that, our child now sees that difference as special, exciting, and worth shouting about.

As a new Dad, a first-time Dad and a gay Dad, I have spent considerable energy grappling with an assumption I had made long ago, even before our son arrived: That there will be times when Cielo is sad or angry that he doesn't have a Mom. And in those times, I will feel responsible, if not rudderless. I have tried to block and tackle where I thought possible. When Cielo's Spanish teacher references Mommy and Daddy in the first class I attend with our kid, I talk to her afterwards and ask that she speak of 'parents' or 'grown-ups'. When I come across a mom in a book I am reading at bedtime, I change her to a grandma no matter how young she appears in the illustration. (Cielo is lucky enough to have two loving and youthful grandmothers, so that edit seems reasonable.) And when our son references a mommy when he's chattering away ("Daddy, that's a Mommy ferry and a baby ferry!"), I am quick to unpack and explore the word choice.
Cielo once told me with the utmost assuredness that he has a Daddy (yes, me), a Papa (yes, Brandon), and a mommy (oh shit). Gingerly, I say, No, you don't have a mommy, leaning into my monologue about how every family has a different makeup and that what makes a family is love. He insists that yes, he does. So I ask him, what is a mommy? He blanks me. I then ask, What does a mommy do for a baby? And he smiles warmly and says a mommy feeds, hugs and strolls a baby. I say, so do daddies. With utter nonchalance and in the coolest "like duh" manner, he says, Papa and Daddy are my mommy. I can feel my jaw unlock and my shoulders exhale.

Of course we are. We are home base. Making meals, kissing boo boos, finding lost beloved toys. We are the grown-ups setting the intention for the days ahead and the dream of our family. We are the ones who love you no matter what. On this Father's Day, I celebrate what we have and what we can share—and I put down the anxiety of what we are not by virtue of semantics. We are excited to be the family we are. And while Cielo may revel in his abundance of Dads, we know that what truly brings him joy is that he feels loved.

Wishing a Happy Father's day to all the people who bring that combination of comfort and confidence to a child's life. One more year down!
This piece was originally published as part of the "Baby Daddies" column on Maisonette.