That Throw-Away Moment
It's the Jewish New Year! Get ready for apples, honey, and the one super-special tradition I can't wait to share with our son.
Hope for the Holiday
This Friday evening marks the start of Rosh Hashanah, the Jewish New Year. Positioned on the lunar calendar, the holiday commemorates the anniversary of the creation of the universe, as laid out in the Hebrew Bible. Jews everywhere find themselves cruising into the year 5781 because well, that's how old Adam and Eve would be turning (give or take a week).
Every year, the holiday provides Jews with a through-the-looking-glass pause: we are asked to reflect on our behavior over the past year and then make amends in order to secure a "sweet" year ahead. Indulging in honey-laden treats—a related Rosh Hashanah custom—is probably the most welcome part of the atonement protocol.
As a kid, growing up 'Modern Orthodox' in Northern New Jersey, I truly looked forward to Rosh Hashanah. I loved how it brought this abrupt pause to a school year that had just begun. I loved that my sister Michelle and I would get new outfits to wear to shul (synagogue)— "something new for the new year" my mom would say as I browsed the boys racks at Bambergers. ("Rosh" means sweater weather.) I loved that we would sit down to these elevated dinners that always felt special but never went on for hours like, say, a Passover Seder could. And I loved, loved, loved going to tashlich.
Literally "to cast" in Hebrew, tashlich is this beautiful ritual when Jews gather on Rosh Hashanah afternoon and walk to a local body of water. Once there, a few Biblical verses and some prayers are read, and then, everyone throws small pieces of bread they've brought from home into the deep, casting figurative sins into the public water supply.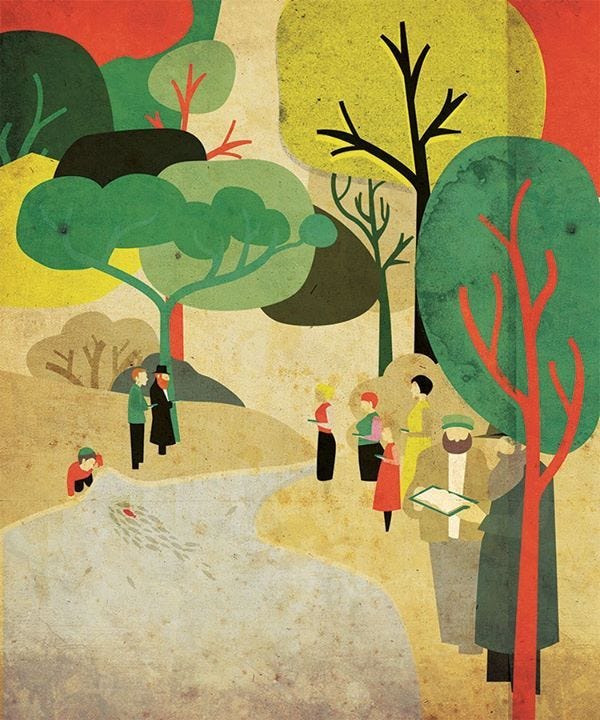 Those Tashlich moments were remarkable in so many ways. They were archaic—over seven centuries old. They were performative—a reprieve from hours of mumbling prayers in shul. And they were outdoorsy. We would go with my dad, which was its own rarified treat, as we rarely did things with my father that involved traipsing through nature.
Something about the supernatural promise of the gesture, taking place in the glow of autumnal afternoon light, transformed the mundane into the magical. Who cares if we were tossing chunks of stale Freihofers whole wheat loaves into the filthy Hackensack River?
I remember learning in Hebrew Day School that "the rabbis" had prescribed, many many years ago, that tashlich had to happen at a body of water that had fish in it. No, not because we were to feed the trout our transgressions, but to remind us that we are like fish. Fish lead insecure lives: things may be going swimmingly (pun intended) and then, all of a sudden, they're taking the bait or trapped in a net. People, too, have to work hard to avoid temptation and difficulties. Awareness and prudence are key.
How true for parents, I think, as Brandon and I get ready to take our son Cielo to his first tashlich this weekend. As caregivers, we take comfort in relying on the certainty of our surroundings. We have our schedules, our supports, our idiosyncratic tricks and hacks to smooth over as much as we can. But the truth is, it's an illusion. We also know that the currents are always changing. If 5780 has taught us grown ups anything it's that we really cannot count on anything—even when we must project permanence and stability for our kids, our family. They are counting on us, though, and that remains the given. And I wouldn't want for anything else this coming year.
---
Also, Reading (In Fits and Starts) …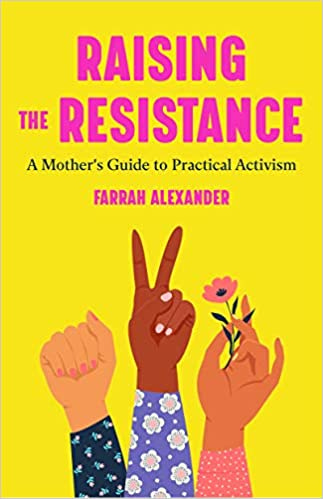 Farrah Alexander's Raising the Resistance: A Mother's Guide to Practical Activism.
Hands-on. Inspiring. Relevant. This feminist manifesto of sorts offers actionable approaches and solutions to help parents walk the talk of progressive values.
Stay tuned for an in-depth Q&A with the author in an upcoming newsletter.
---
To everyone who has subscribed to ABBAPAPA, our sincerest thank you—if you enjoy what you're reading here, please consider sharing with your family or friends. Forward an email. Post to your feed. Scream from your rooftop. Much obliged—Ariel and Team ABBAPAPA
*Art note Tashlich painting, above, by Anitta Soble