The Game of the Name
What's behind those annual baby name lists? Plus, RBG on parenting, and much more
New now! ABBAPAPA on Instagram! Click here for parenting news, inspo, and fresh resources!
A Closer Look …
Are you like me? Are you drawn to those annual lists of the top baby names? As a kid with a name that was not only not popular but was also primarily a girl's name, I was well aware that I was uniquely tagged—and that my parents had a flair for the creative. The older I got, the more I liked that I had a name others didn't. Still, it never felt good to be completely unseen by the souvenir industry. Where was my ARIEL mug? What about a keychain? A pen? Anything …
I am always curious then to learn which names have made it. And I like to wonder, too, how pop culture may have influenced the grown ups holding the pen. Many have asked me if I was named after Disney's The Little Mermaid. Nope. I was born 15 years earlier than its release. The only "famous" Ariel at the time of my arrival? Israeli military strategist —and later Prime Minister—Ariel Sharon. Still, not my namesake.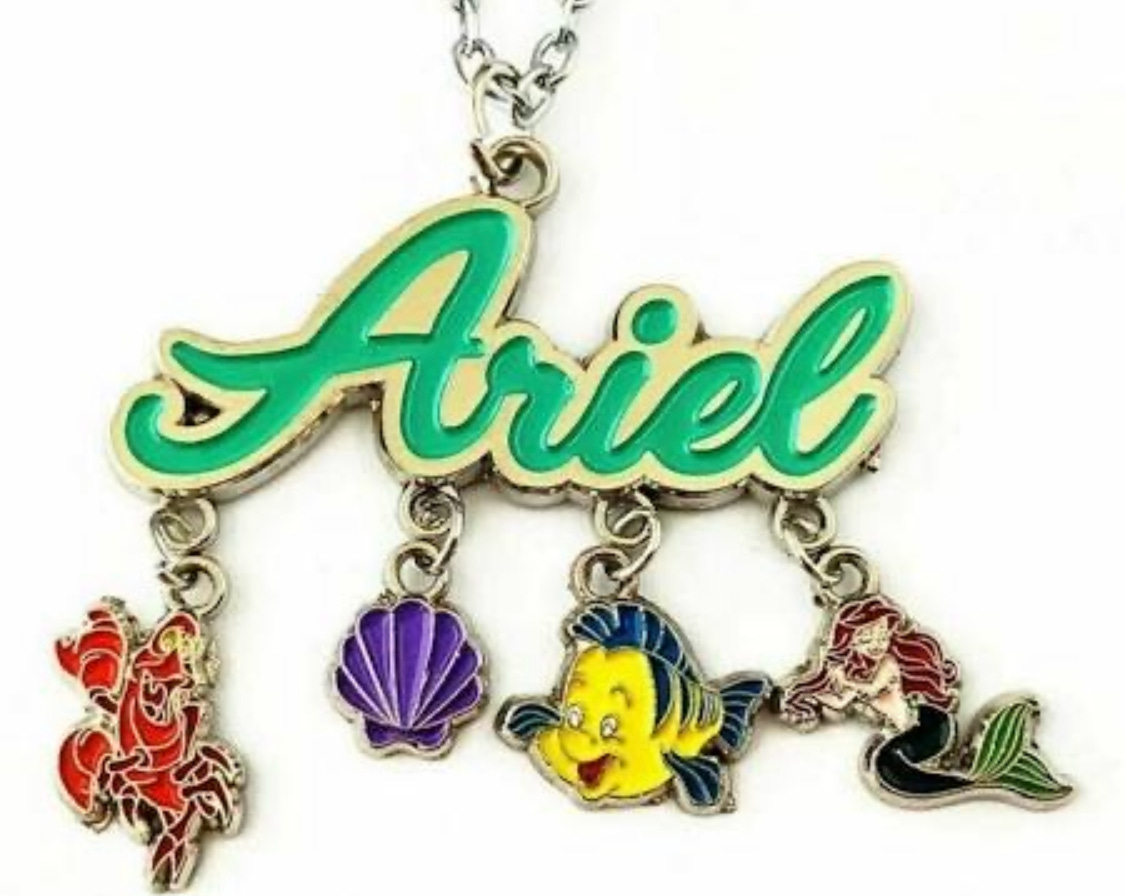 Initial reports from the Social Security Administration, who puts out its list every year, show that, in 2019, Liam and Olivia were #1 for boys and girls, respectively. Liam? … Hemsworth? Payne? And Olivia? … Pope? the Pig?
But, it turns out, that list doesn't tell the whole story: variations on a name are not lumped together. Baby-name almanac Nameberry actually does the work of consolidating alternate spellings to get a more accurate ranking.
Move over, Liam! Jackson is actually the #1 boys name. That is when you factor in radically independent spellings such as Jaxon, Jaxson, Jaxxon, Jaxen, Jaxsen, Jaxyn, Jaxsyn and of course, duh, Jaxin. Liam, with its one alternate (Lyam) comes in at #2. And for girl's names, Sophia (aka Sofia, Sofiya and Sofija) bests Olivia.
So does Ariel fare better now that I have Ari, Arial, Arie, Ariyel and Arriel at my back? Well, we made it to #549. Sigh.
---
Postscript One …
On September 2, I shared an essay about the importance of finding toys that reflect the makeup of your own family and of the world around us (What's Your Toy Story?). In the piece, I talk about how my mother had been making an extraordinary effort to find just the right Fisher-Price Little People toys for her grandson—our son—Cielo. Well, just this past weekend, we visited my parents in their backyard in New Jersey to celebrate Rosh Hashanah. Waiting on a table for Cielo were three figures [below] she had repackaged in a Fisher-Price container that perfectly aligned to our son's point of view (he has two dads; we are multiracial). "Here," she shared excitedly, "there's a Daddy and a Papa and a Baby Cielo." Cielo's response was typically grateful and inquisitive: "Thank you, Grandma … long pause … why am I laying down and not crawling if I'm a baaaby?" I was heartened by his nonchalance. Cielo saw himself and our family reflected back to him as a matter of fact, and as a result, his reaction was equally matter of fact. Couldn't have asked for a sweeter start to the New Year.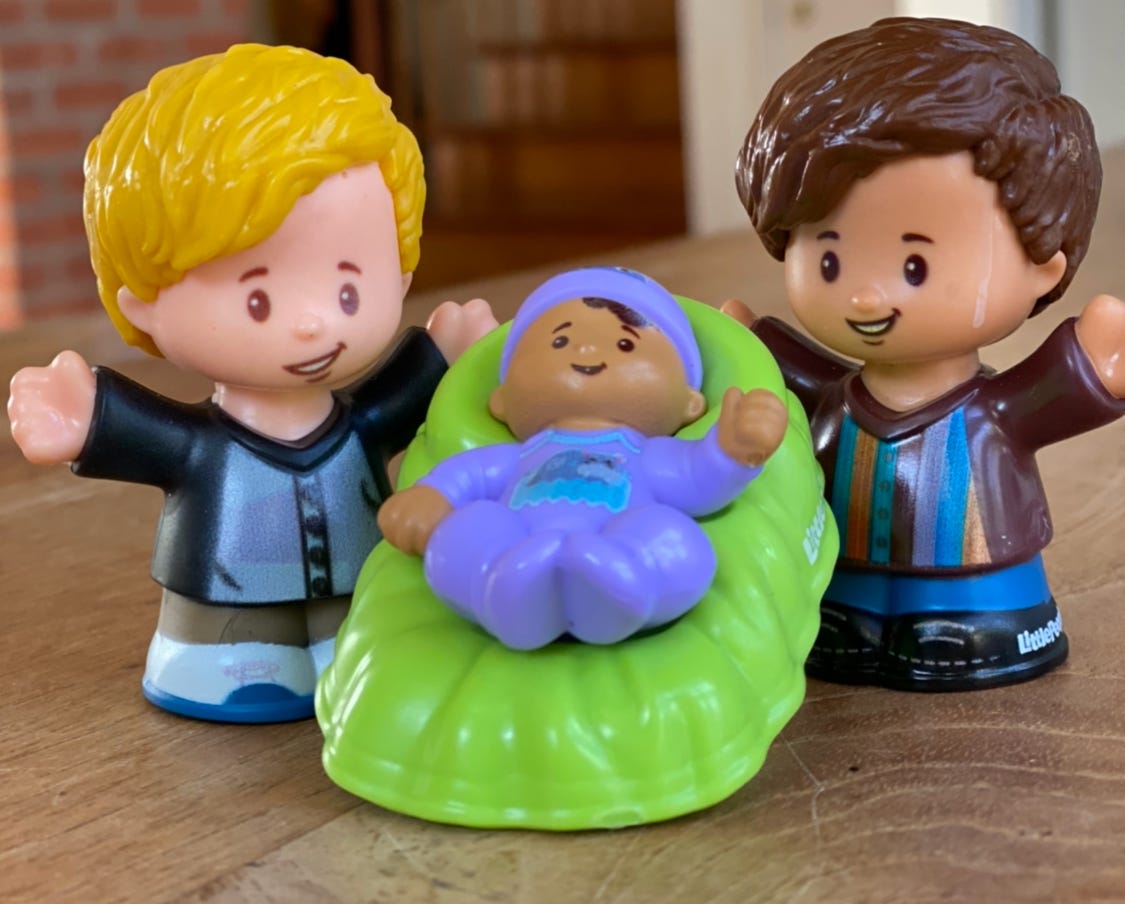 ---
Postscript Two …
On September 9, I shared an interview with Lisa Selin-Davis, author of Tomboy (What "Gender Reveals" Reveal About Us). We had spoken about the harmful gendering of toys and the pitfalls of assigning this and that into a blue or pink bucket. Warns Selin-Davis, "It requires consistent pushing back against these messages with your children and in all kinds of ways, very early on." It was only a few days later, when my family was confronted by this sort of messaging in a super-overt way. We had rolled into a Burger King drive-thru—an effort to stem a hunger tantrum from erupting (ours, not Cielo's). We added a kid's meal to the order. The woman in the speakermabob asked, "Boy toy, or girl toy?" Instinctually, Brandon and I said "Boy toy" and then, kinda cringed. On the short drive to the pay and pick-up window, we agreed we would ask what the two toy options were. Brandon asked, and we were told, "It's an emoji". The "boy toy" we got for Cielo was a plush stuffed emoji [below], specifically "Dizzy Face" as per emoji glossaries online. Not only was the toy not gendered, but it also wasn't a conventional "boy toy" like say, a truck or ball. It was a doll, of an emotion. Go figure. Still, c'mon, Burger King, do better. Families— especially ones with LGBTQ+ or nonbinary adults or kids—needn't be faced with this senseless and antagonistic question. Why limit our children's options when it comes to both entertainment and expression? Offer one toy for all kids—and keep the inquiries to beverage size.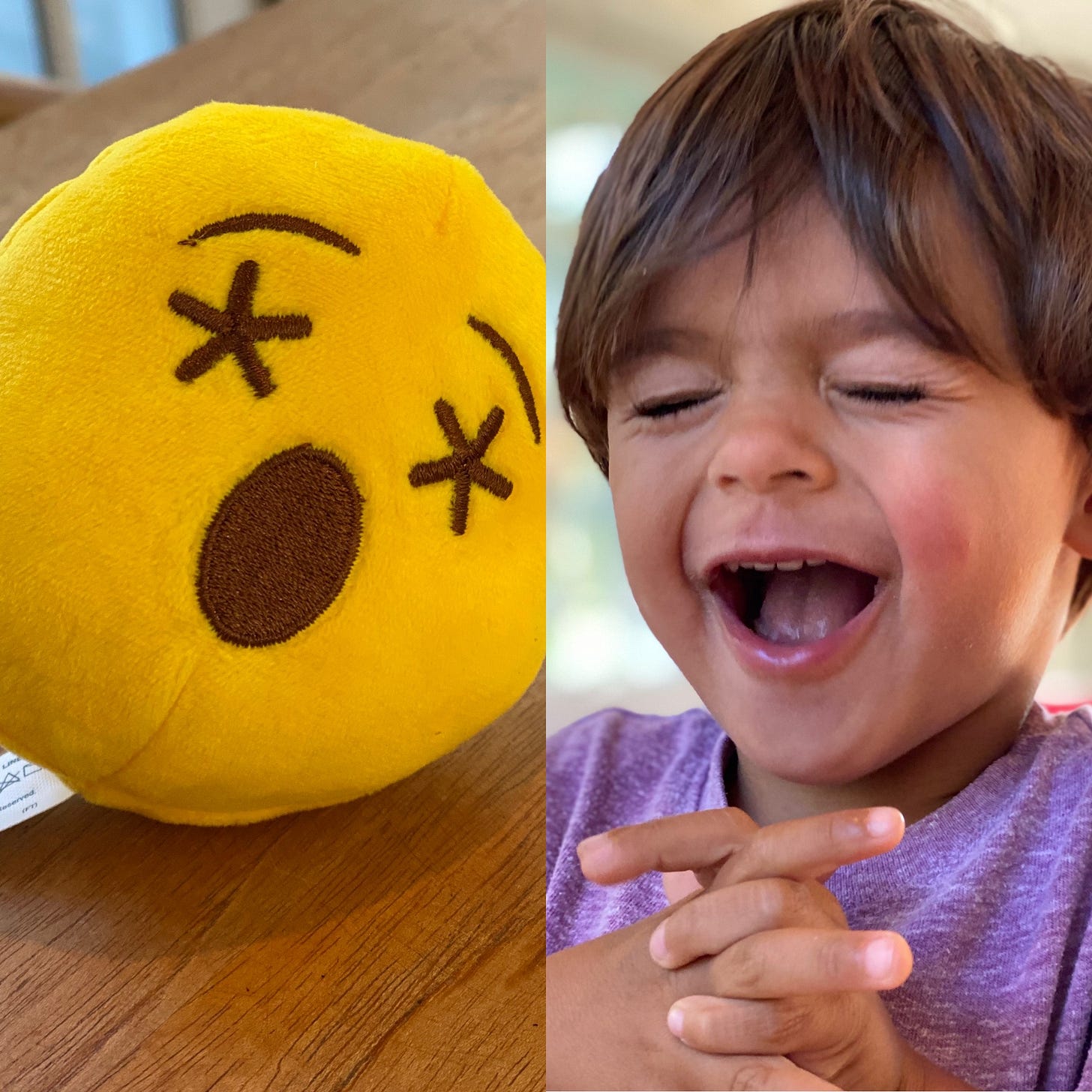 ---
The Book of Ruth
In 2016, Justice Ruth Bader Ginsburg wrote an op-ed entitled Ruth Bader Ginsburg's Advice for Living for The New York Times. In it, she talks about how she navigated the shifts all parents experience, between caregiver and full-fledged adult:
Work-life balance was a term not yet coined in the years my children were young; it is aptly descriptive of the time distribution I experienced. My success in law school, I have no doubt, was in large measure because of baby Jane. I attended classes and studied diligently until 4 in the afternoon; the next hours were Jane's time, spent at the park, playing silly games or singing funny songs, reading picture books and A. A. Milne poems, and bathing and feeding her. After Jane's bedtime, I returned to the law books with renewed will. Each part of my life provided respite from the other and gave me a sense of proportion that classmates trained only on law studies lacked.
---
New now! ABBAPAPA on Instagram! Click here for parenting news, inspo, and fresh resources!