What's Your Toy Story?
When figures and faces don't reflect a family's demo—let alone, the world around us—fun can end up feeling fraught.
State of Play
My mother is a former New York City public-school teacher. She has 30+ years of experience setting up—and storing away—her classroom. Every book, every eraser, and every incentivizing tchotchke she collected over the decades, brought out in the fall and packed away in the summer. It's no surprise then that the basement and boiler room in my parents' house in New Jersey has shelves that are still filled with many of the toys from my sister's and my childhood. Wiped down, repaired, and categorized, our toys sit there, in breathless anticipation, ready to be played with.
Every time my family visits with my parents, my mother will have resurfaced a gem from the archives, putting it back in rotation—this time for our son Cielo. He's thrilled by the constant novelty, and Brandon and I are moved by the thoughtful gesture. We love that the toy has been recycled—less waste, more sustainable—and we often remark about how great a condition the toys have remained. They don't make 'em like they used to, right? Well, it turns out, for better and for worse …
A few months ago, my mom reintroduced a 1972 Fisher Price house that I absolutely loved playing with as a toddler. I have such distinct, pleasant memories sitting with the house on my parents' living room rug, rolling the garage door up and down incessantly and clicking the doorbell switch that really rang. Because my mother could work at the Smithsonian, she still has all of the original Fisher Price people that came with the house. A little worse for the wear, the people still do the trick, even if they—unlike the pieces today—have no arms, legs or necks.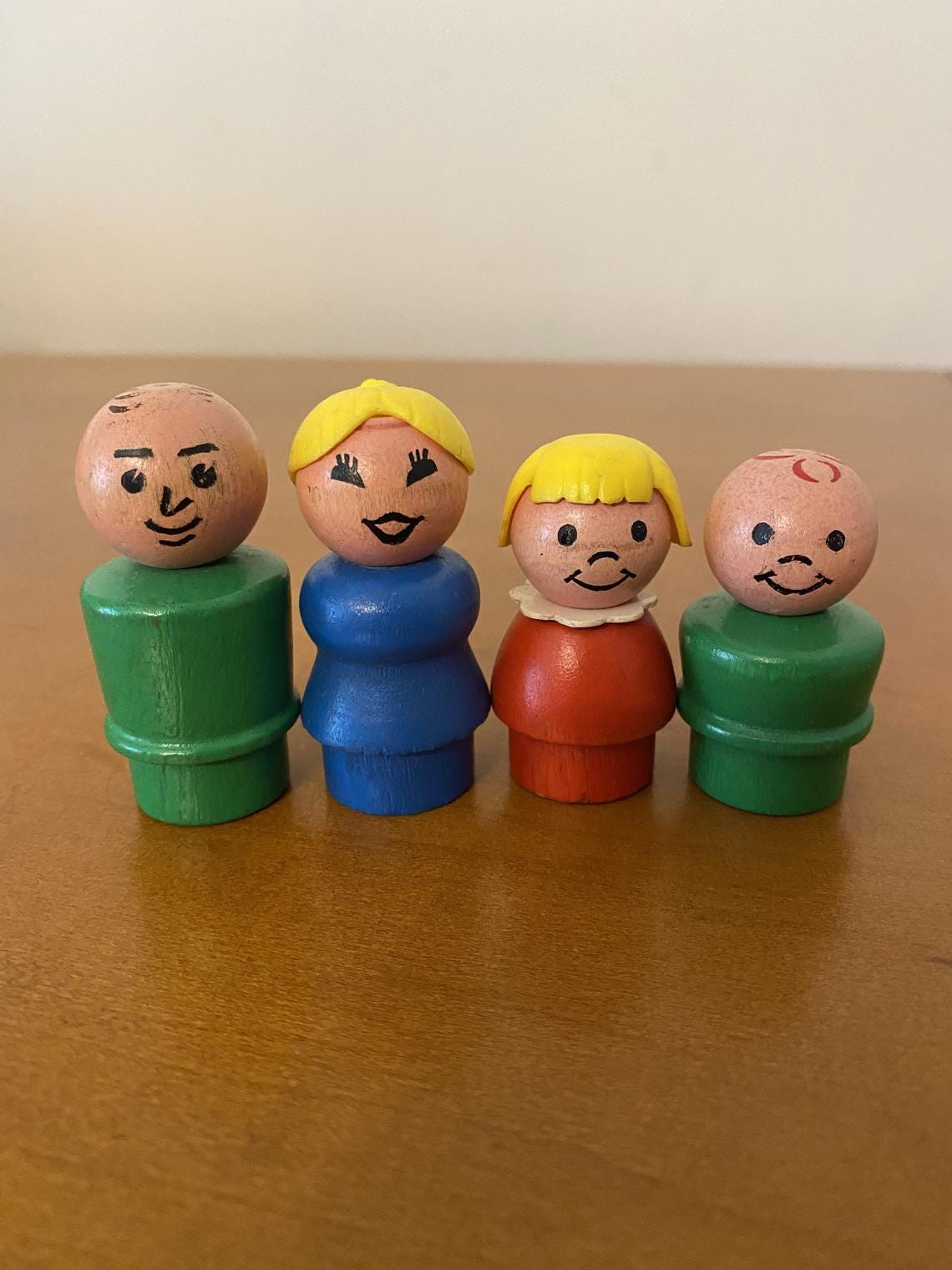 What I never noticed as a kid? The pieces are all white. Well, pink. Back when pink was the default skin color for white, and when white wasn't even the default, it was the only consideration a toy company made.
The moment he saw the house, Cielo wanted to make the toy his own—put cars in every room—but Brandon and I had reservations. My husband and our son are Latino. Our family doesn't look like this, in so many ways.
Cielo did play with the house for a couple of weeks, and for whatever reason, he pretty much ignored the figures. Every time I would see the house, I would think this is wrong and wonder, is this damaging? Are we erasing the diversity of our lives? What message does this send about a toy-company's idea of white supremacy?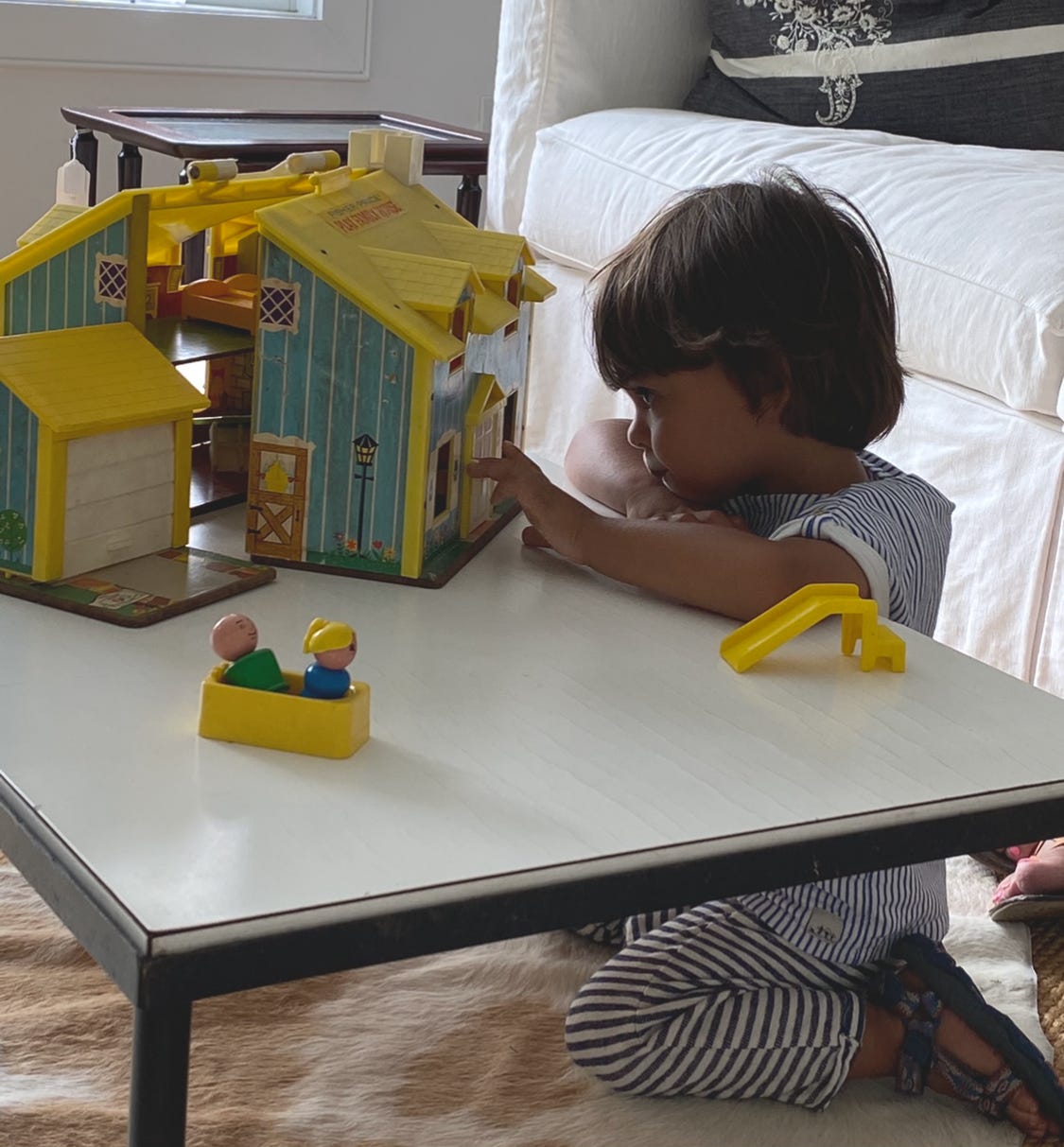 One day, we just put the house back in the bag my mom gave us and never took it out again.
We saw my parents on a visit a month or so later, and my mom had a new old toy to share. The Fisher Price house came up, and I mentioned to my parents that, Oh, hey … yeah, so all the figures are white, and we don't love it for Cielo, so it's been back-burnered.
My mom, ever the teacher, was quick to offer a practical and child-centered solution. "Cielo can just make them whatever he wants them to be." Of course. And we are all for role play, pretend, etc. But, in 2020, we as parents have to do and strive for better. Our kids should be seeing themselves and the diversity of the world in everything they watch, read, and play with.
I hit up the Fisher Price web site to see what their house looks like today. The Little People Big Helper House now comes with working lights, but no garage. Also, it now comes in two color ways—with a blue roof or with a pink roof. (My version's 1970s roofing was bright yellow and free of gender bias.)
As for the figures included, you can now buy the house with either two white figures—Jack and Emma, or with two Black figures—Chris and Tessa. Caregivers have more options today. Still, Fisher Price doesn't sell one house with default Black figures, or a blended family of Black and white figures, or one with Asian or Hispanic figures. Many of the Fisher Price Little Figure toys available on their website still come with default white figures, including their Sit With Me School Bus (missed opportunity), their Friendly School (same), and their yes, Nativity. Fisher Price's Jesus, Mary, and Joseph—even the Angel Gabriel—look far more Norwegian than Nazarene.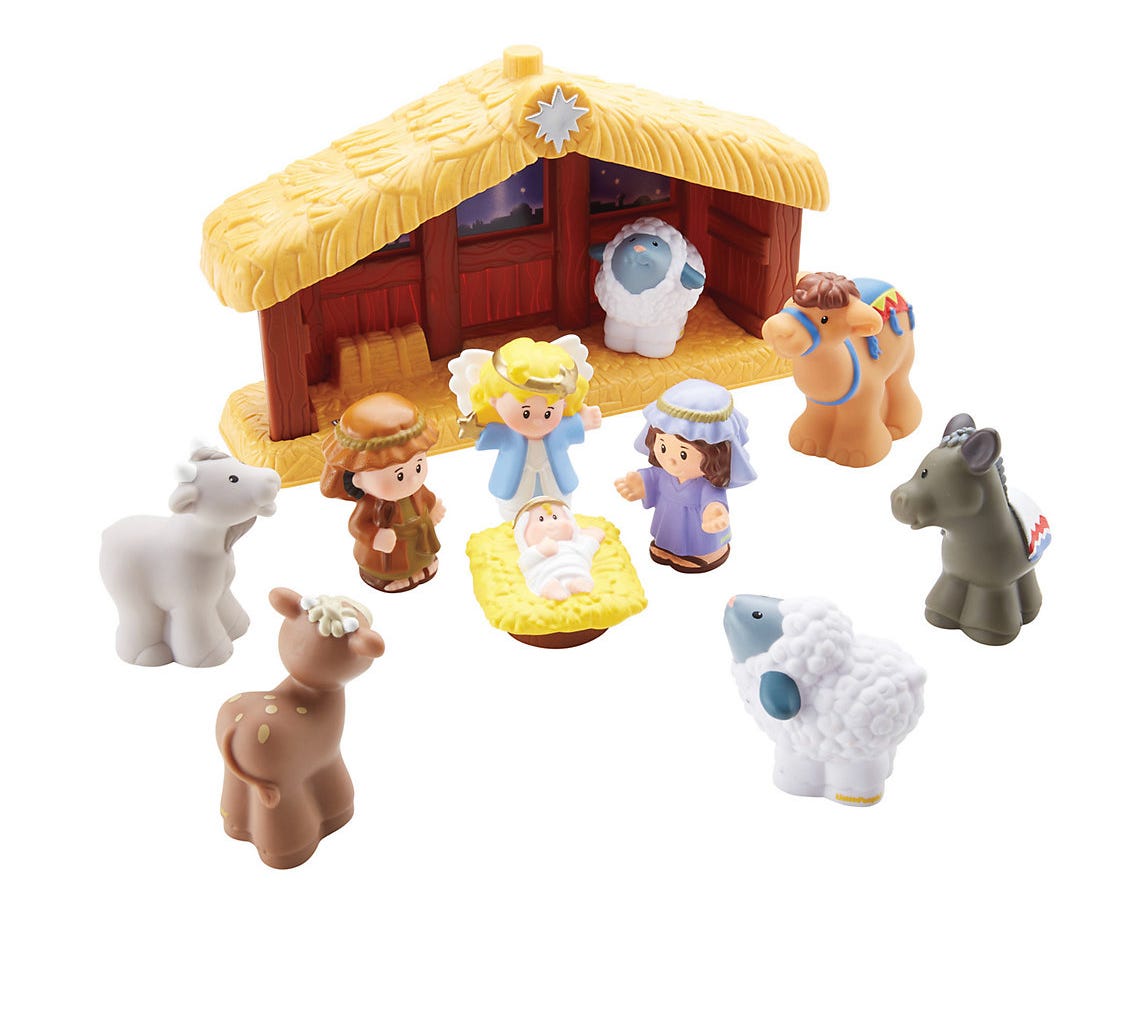 Our vintage house remained on the top shelf of Cielo's closet, when just this past weekend, my Mom texted me to let me know she's been shopping for Cielo's Rosh Hashanah visit gifts, as well as for his third birthday gifts. (September is a big one for our boy.) She mentioned that she had purchased Fisher Price figures in different ethnicities. She bought two family sets, one Hispanic and one Caucasian. We can use the two fathers, she suggests, to "correlate to Daddy and Papa". We can keep the Hispanic baby, and set aside the mothers and white baby. "Or," she adds, "we can use them in another way."
I melted, grinning widely on the sidewalk, stopped in my tracks reading her texts. Not only would Cielo be able to see his family; I had, once again, been seen by mine.
*Buyers Be Aware
When you search for families in various ethnicities on the actual Fisher Price site, you will come up empty. In fact, search "Asian", say, and Fisher Price serves an unfortunate message: 'Oh no! No search results: Asian.'
Still, you can find them on Amazon. Fisher Price Little People families are currently available in African American, Asian, Caucasian and Hispanic.
And be sure to check out these sites, some of the incredible resources dedicated to spotlighting multicultural, more representative books, games and toys: The Black Toy Store, Colours of Us, and My Family Builders.
To everyone who has subscribed to ABBAPAPA, our sincerest thank you—if you enjoy what you're reading here, please consider sharing with your family or friends. Forward an email. Post to your feed. Scream from your rooftop. Much obliged—Ariel and Team ABBAPAPA
---