What is ABBAPAPA?
ABBAPAPA is a newsletter and online community centered on the collective parenting experience, with a mission to support fathers, nontraditional families, and all of us out there trying our best to make sense of our roles as parents, mentors, guides, protectors, and even friends. 
It was born from my experience as a new, gay Dad (almost three years ago, with the arrival of our son Cielo Rimon), as an uncle to incredible nieces and nephews, and as someone who is thinking deeply about how we might support anyone who has taken on the job of raising, teaching, and nurturing our next generation. 
The newsletter will include personal essays, Q&As with thought leaders, news about and context around issues that impact caregivers, and plenty of research and recommendations. It's also where I will include shout-outs, community feedback, and surprising resources.
What is ABBAPAPA's mission?
Media about and for parents has long been conditioning caregivers to think in very traditional ways: moms do everything, dads are dolts, and parenting boils down to keeping kids fed, out of harm's way, and regularly gifted and indulged.
For those of who have been kids, are parents, or are exploring what it means to create your own family, we know that there is so much more to it. Intentional, directional, spiritual, and responsible caregiving requires pretty constant self-refection, learning, and collaboration. ABBAPAPA is a place to hear and share these sorts of ideas. To elevate and extend the parenting experience beyond the commercial and the conventional. 
Today, the generation we raise will have to have the foundational education and right set of tools to heal our country, our planet. This is the generation that will do heavy-lifting when it comes to the work to tear down systemic racism, to expand the definition of what it means to be he/she/they, to reverse the damage of our climate crisis, and so much more.
ABBAPAPA aims to normalize the immensity and audacity inherent in being a parent, in being part of this incredible and daunting group of folks in on this mission. 
Why should I subscribe?
Becoming a subscriber means you appreciate what's being said, explored, and mined here—that you find value in this newsletter and believe in its mission. You'll get full access to the website and its archive. It means that you never want to miss an update and that you want to be able to weigh in and share. It also means you are interested in supporting independent media. Not to mention, the newsletters will be fun. I promise.
Subscribing is free. I just ask that you comment and share if you like—or don't like—what you read. Engagement is what will make this a success.
Every new edition of the newsletter will go directly to your inbox. Be the first to read, learn, know, benefit. Treat yourself. Speak your mind, learn new perspectives, discover fresh resources.
Do I have to be a parent—or plan on being a parent—to be into this?
Absolutely not. ABBAPAPA may be geared toward parenting experiences, but non-parents will no doubt connect to the diverse subject matter, too. Expansive parenting is really about being ready and willing to look at culture, history, religion, norms, experience and bring these things to life for you and those you love. Parenting does not sit in an empty box of baby wipes cordoned off from humanity. Parenting is living, exploring, deciding, articulating life in general.
What's in a name?
Abba is the Hebrew word for Dad, and what I called my father growing up. Papa is the Spanish word for Dad, and what our son calls my husband and (his other Dad) Brandon (read about that choice here). ABBAPAPA is a place to explore all the facets of fatherhood, parenthood, family—past and present.
Also, I love the sound of it. Don't you?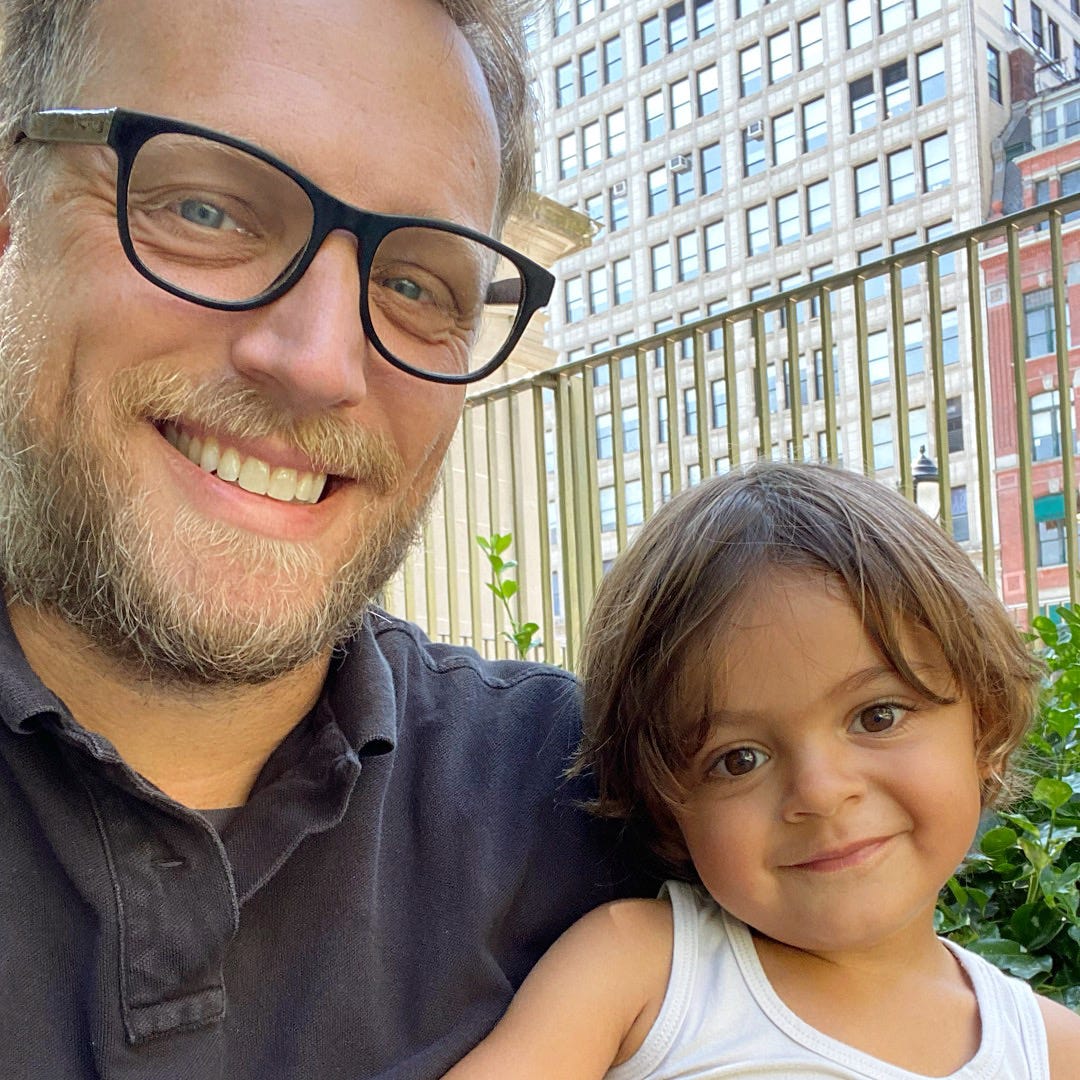 To find out more about the company that provides the tech for this newsletter, visit Substack.com.

Subscribe to ABBAPAPA
People
Ariel Foxman
Dad to Cielo Rimon. Writer. Ex Editor in Chief of InStyle, Cargo. Contributor to Architectural Digest, Maisonette, NYT, Vanity Fair.